We SVKT flooring are well known for Laser screed Floorings works all around India, SVKT flooring is situated at Tirupur. We are providing quality Laser Screed Flooring works. We are popularly known for our talent, passion, work ethic, commitment to our clients through support and maintenance, and Flooring ongoing relationships. Locally run and operated since 10 years.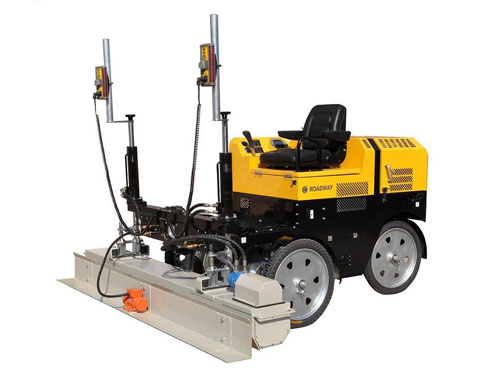 Features & Benefits of Laser Screed 
Flooring :
Produces floors of unequaled flatness and levelness.
Reduces labor costs due to faster placing time and reduced form work.
Increases productivity, customer satisfaction and employee morale.
Assures greater accuracy through Laser Technology.
Fast track production leads to shortened schedules.
Actually improves floor quality and increases profits.
Concrete is leveled and compacted in one operation producing high-strength, dense, durable floors.
SVKT Laser Screed Flooring technique allows you to lay concrete floors in wider bays of any size. It drastically reduces time, labour; number of construction joints and eventually improves the flatness of floors. Laser screed flooring eliminates the need of fixing guide rails to every 4 meters. It simultaneously cuts, vibrates and levels the concrete in a single pass.
All above operations are controlled by laser transmitter, receivers and computer. So, manual errors are eliminated. SVKT Laser Screed Flooring Coimbatore is very useful to lay floors on doubly reinforced slabs, Metal decks, Grade slabs with dual slopes, very large factory floors in few days. With Large Line Laser Screed S-240 it is possible to lay concrete floors up to 3000 sq.M per day.
Laser Screed Flooring process further reduces the no. of joints as no form work is required in between to support the Surface Vibrators. Form work is done only on the periphery of the panel e.g. 30 x 30 mtrs, 20 x 20 mtrs etc.to stop the concrete from flowing outside panel.
In this case also, concrete with low water : cement ratio is modified to for higher slump ( higher workability ) using admixtures . With SVKT Laser Screed machines, the operator can walk into the concrete and level it by cutting the excess while coming back. Boom type machines like S 15, S 240 do the screeding standing outside the concrete. Laser Screeds are guided by Laser Transmitter fixed on column or tripod. The receivers fixed on the machines constantly track the laser signal and adjust the level of cutting blade to the correct level.
Areas as large as 2500 sq. Mtrs can be finished in a day using SVKT Laser Screed machines. This output calls for good coordination in the entire operation starting from area preparation to final finish and induced joints in a specified time.